My last post was almost 2 months ago and I was mentioning loving my empty nest. Shortly after that I started experiencing a slight depression for no obvious reason. My sister thinks that I don't like the empty nest as much as I claim as I was the kind of mother that liked being needed and was rather obsessed with taking care of my daughters, now I feel lonely. I've also gained like 20 pounds since I quit smoking and the last thing I feel like doing is exercising. I feel like I can't motivate myself to do anything. So now I feel fat, old, ugly and lonely. Why can't I snap out of it? I don't even want to be around people, everyone iritates me for no reason. This makes me feel guilty because they aren't doing anything wrong. Especially my husband, I love him VERY much and it feels harder and harder to be the good wife I know I should be. Yuk, I hate feeling like this. Since my last post I watched Maggie (Tini's sister) for a week so I had 3 dogs. Jack made me sleep in the guest room. He said it was bad enough to sleep with 2 dogs, he couldn't manage 3 ( I did feel a little like the inside of a taco). Posting a few pics of the 3 dog adventure...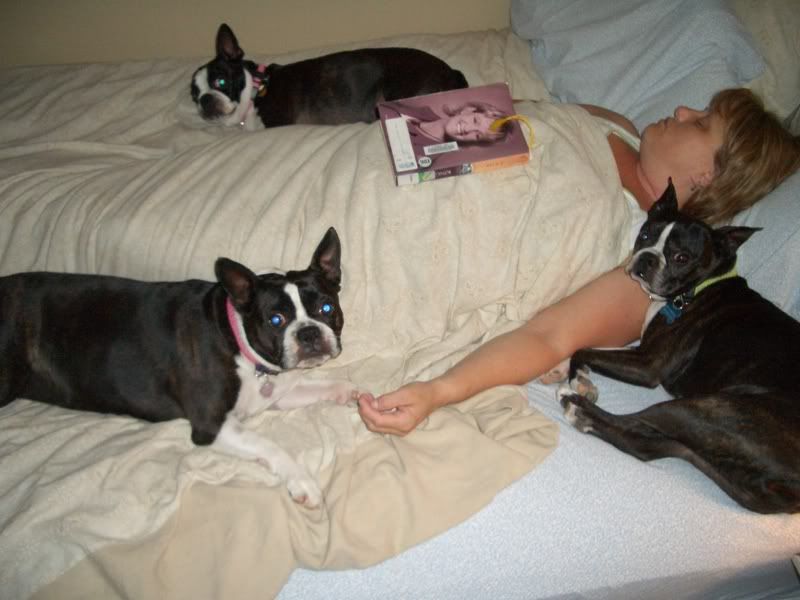 Dancing Dogs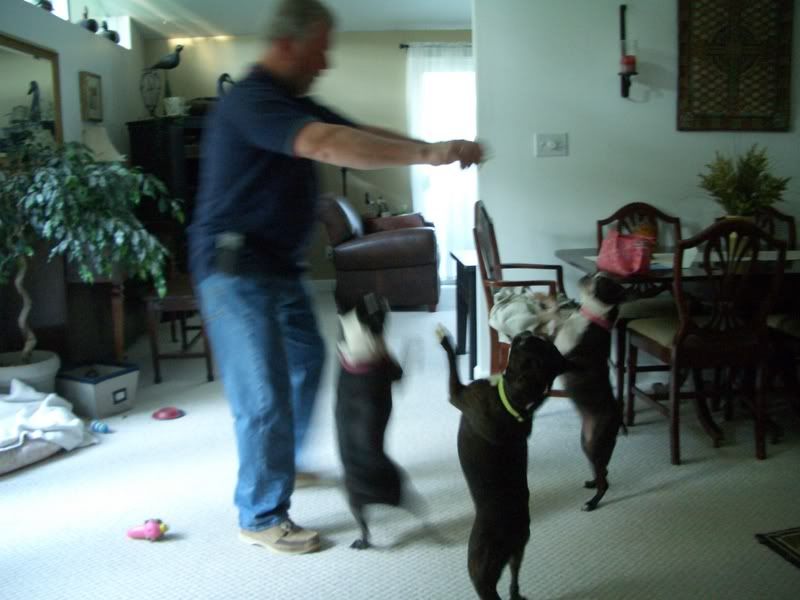 From left to right - Mar"tini", Boo, Maggie (aka large Marge)
I would watch my sister dog anytime instead of letting her go to a kennel and they were all pretty good but I don't think I could manage 3 dogs on a permanent basis.
Then as ridiculous as it sounds since I don't even know them - I became sooooo sad for Lulu's family. I do know what it feels like to lose an animal and for a lot of us, it's as bad as losing a person. I know it makes me wonder what I was thinking when I decided to get more dogs. A few days later my daughter Rachels' roomate called me in the middle of the night to tell me that she had to call 911 to get an ambo for Rae because she had alcohol poisioning and was turning blue. I can't even describe all the emotions I felt. Mad because she knows better than that. Dissapointed in her choice to risk losing everything she's worked so hard for. Scared that she wouldn't be okay. Paranoid about her continuing to be on her own. I spent the night in the ER with her but she didn't even know I was their for about 6 hours. A few days later Tini starts with really bad skin issues again and she has pointy tags on 4 of her teets. I take her to the allergy vet ($453.00) where I'm told she has a yeast infection on her feet and in her ears and some other bacterial infection on her back and the tags are papilomas caused from the Atopica I give her. I'm given multiple meds and serum refil and told to follow up with my regular vet. The regular vet wants to do all these vaccines that she's due but I insist on titers first. I mention that Tini has recently (probably last 6 months) had very bad breath. I never thought it was that important until Lulu. Turns out she has a broken absessed tooth (last one on top). I also refil the Atopica at her regular vet (another $325.00). I brush her teeth but I don't really examine her. Anyways, she's getting her tooth pulled next Wednesday ($400.00). I'm pretty sure I'm going to be freaking all day about her being under anesthesia. The beginning of this week I had to take 2 days off to take care of Rae again. I took her to the hospital because she thought she had an infected spider bite. Turn out she has a very bad staph infection. She has a high temperature, is in a lot of pain and is vomiting. My sister is an O.R. nurse and she said she probably picked it up from going to the hospital when she was drunk. She has to be on 2 different antibiotics for one month. I hope she can remember to take them all without me being there to remind her. I'm glad this happened before her nursing school classes started because she can't even walk or wear pants. It feels pretty good spilling your guts on here. Some of this I didn't share with my closest friends or my mother, not sure why, maybe embarassment, but it feels good to say it. Well, guess that's enough drama for the day.